Beskrivelse
RZN MS-TOUR
3 PIECE TOUR PERFORMANCE GOLF BALL
SOFT & POWERFUL: OUR EASIEST PLAYING TOUR BALL FOR ALL SWING SPEEDS
RZN MS-Tour is a three piece tour performance golf ball with soft urethane cover and 3D speed lock technology. Designed with state of the art technology of the RZN Brand. Expect a soft and powerful tour ball targeted for Medium Swing speeds players.
What to Expect:
Long Distance on ALL long Irons, Woods and Driver
Our Lowest Compression Tour Core Formulation –soft feel on all shots.
Good Control all around the green
Reduced Air Drag due to Micro Dimple Surface
High Grip in Wet Conditions
Bigger Alignment for easier aiming while putting
MICRO DIMPLE SURFACE WITH ANTI-SLIP URETHANE: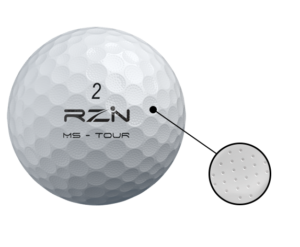 13,558 Micro-Dimples to reduce drag and improve carry and overall distance.
An overall penetrating trajectory combined with a soft urethane cover.
Better control and distance in wet conditions.
With special visual design for easier aiming while putting.